Transport Workers Union's Moneypenney
Gives a Semantics Lesson
The following letter was sent by Amtrak Reform Council Member Charles Moneypenny to fellow member James Coston. The Transport Workers Union faxed a copy of the letter to all Amtrak Reform Council Members.
In this member's opinion, Mr. Moneypenny demonstrates an admirable level of rhetorical ability, though with a somewhat uncivil tone.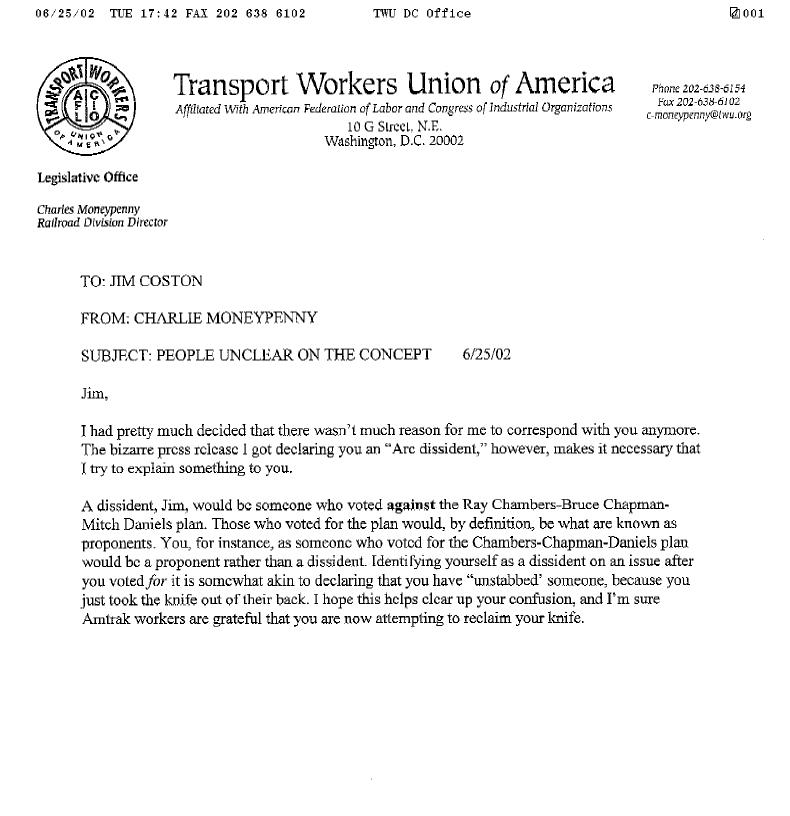 <!###DEMOGRAPHIA FOOTER AT 010403>

(c) 2001 www.demographia.com --- Wendell Cox Consultancy --- Permission granted to use with attribution.


Demographia is "pro-choice" with respect to urban development.
People should have the freedom to live and work where and how they like.

DEMOGRAPHIA
is an undertaking of
WENDELL COX CONSULTANCY
P. O. Box 841 - Belleville, IL 62222 USA
Telephone: +1.618.632.8507 - Facsimile: +1.810.821.8134


E-Mail: enquiries@demographia.com


Demographic Briefs | New Items | Book Store | Subscribe (Free)

Corrections Policy, Rights & Permissions

Related Web Site:



THE PUBLIC PURPOSE
Internet Public Policy Resource